Kyokushin books


KYOKUSHIN - SYLLABUS ENCYCLOPAEDIA


5 VOLUMES
ENGLISH




FIVE BOOKS - 4000 pictures / stances, Kihon, Ido Keiko, Breathing, intermediates stances and motions, details and many explanations.
Size - 16,5 cm x 23,5 cm of hundred pages per volume.
These books try to be a help for all students from beginners until high ranked.
All Sosai's Syllabus is detailed with a complete index at the end of each volume to help the reader to find a technique.
For the best understanding, not only the technique is photographed but also intermediate motions (preparation, balance of weight, and so on) to help the student in his own progression.
Each time the picture is not enough clear to understand some details, a detailed text complete the iconography.
Some pictures are doubled with a profile and sometimes if necessary with a detailed photo.
This Syllabus follow Sosai's one, but as after he died, many groups appeared, these books try to help everybody without any ostracism, so if a student follow a different progression ha will find in the Index at the end of each volume, the place where he could find this technique.
For the same reason, some exercises Sosai was teaching out of the Syllabus, are also present in this Encyclopaedia. And Kyokushin staying a living Martial Art, some new techniques like "Do Kaiten Mawashi Geri" are also included.
ABSTRACT SYLLABUS 10th KYU (Volume 1)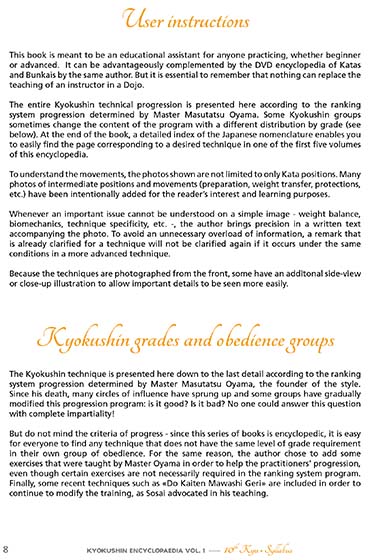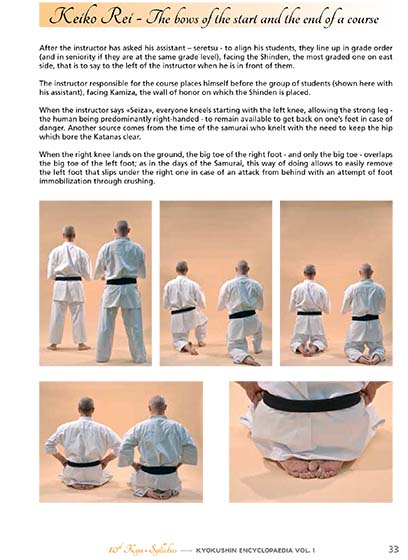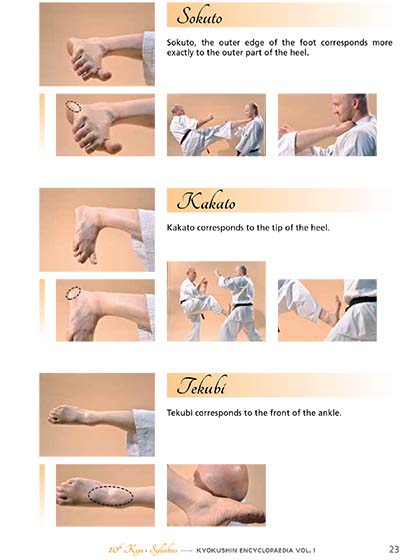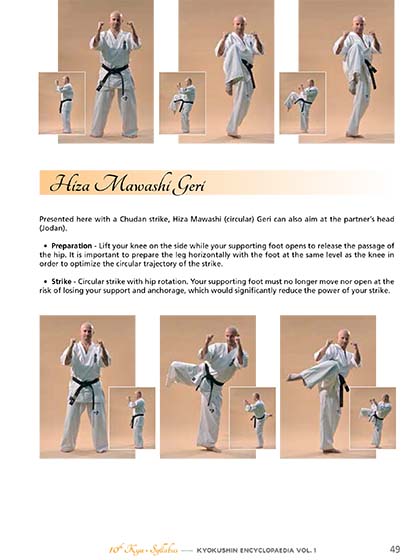 ABSTRACTS SYLLABUS 1st KYU - SHODAN (Volume 5)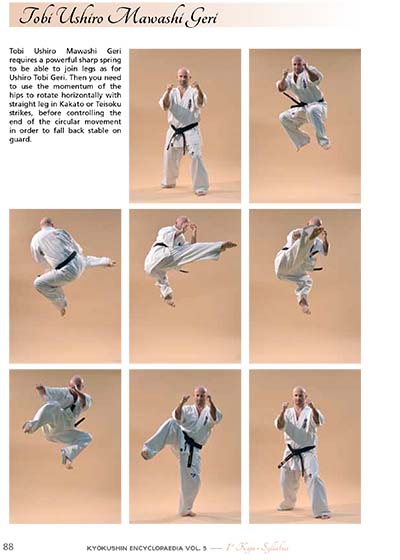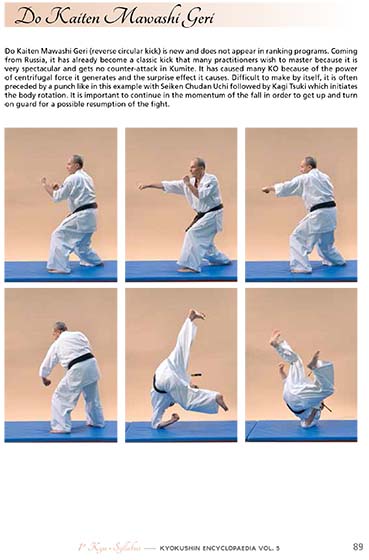 INDEX of TECHNIQUES (5 volumes)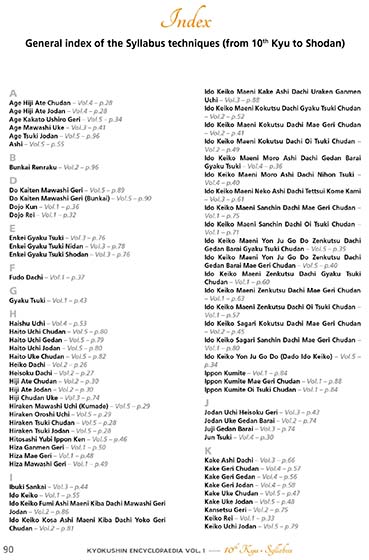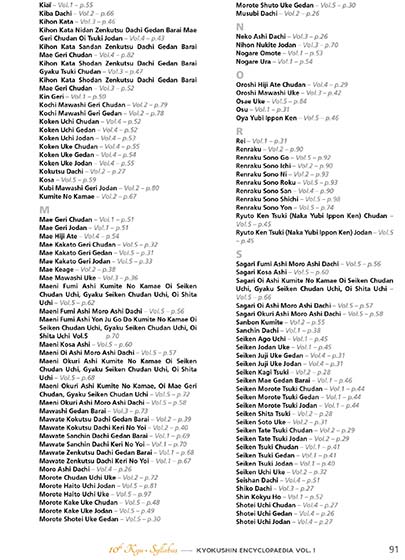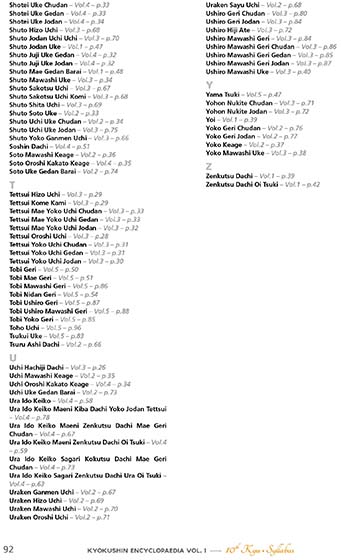 SUMMARY VOLUME 1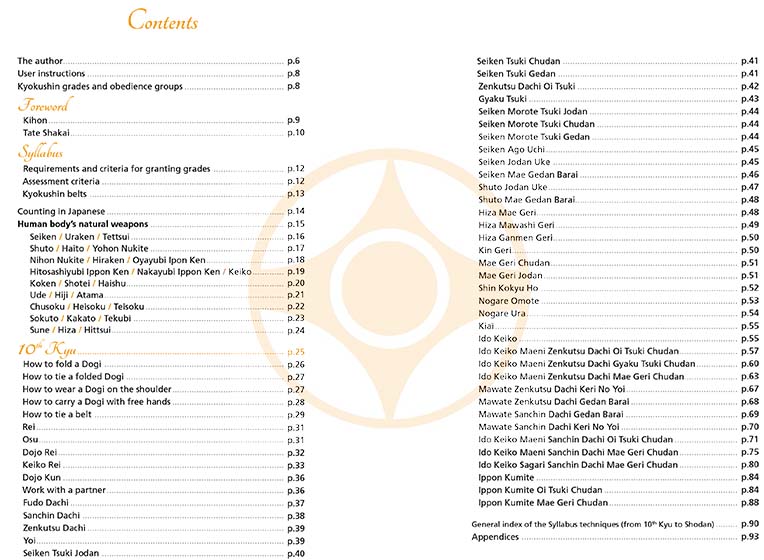 SUMMARY VOLUME 2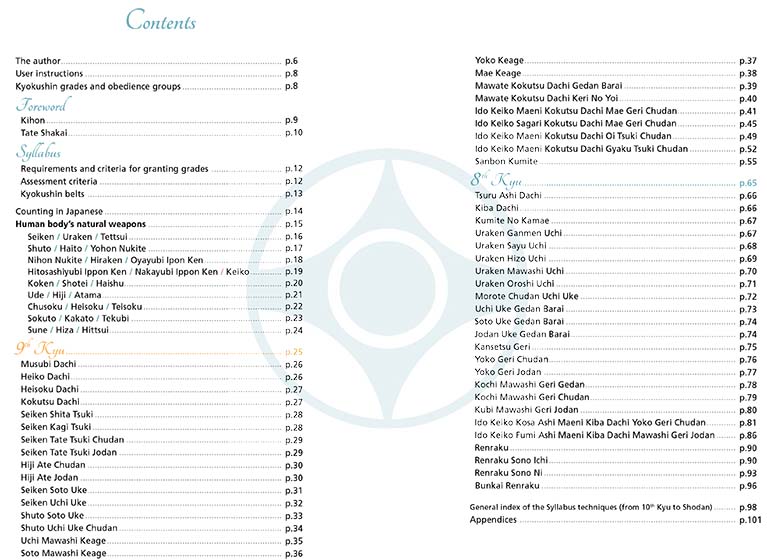 SUMMARY VOLUME 3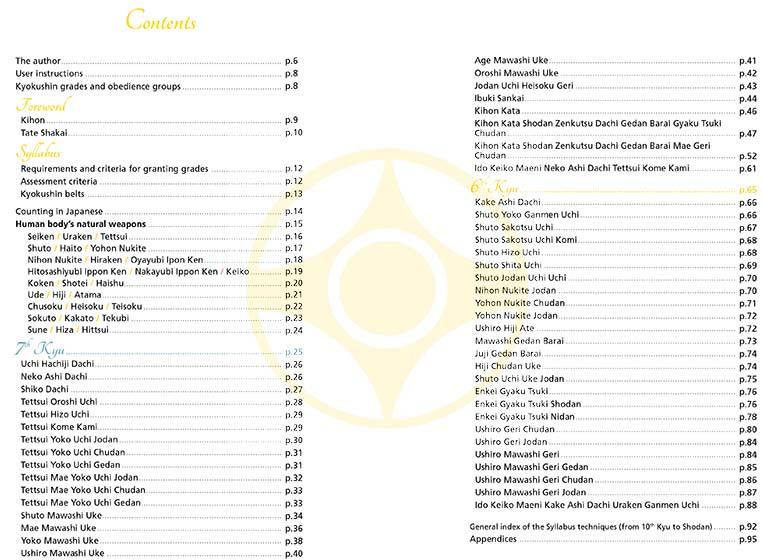 SUMMARY VOLUME 4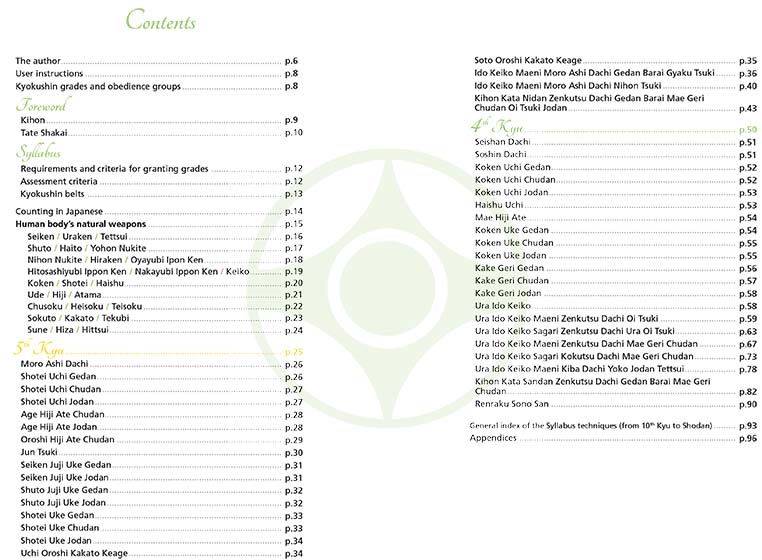 SUMMARY VOLUME 5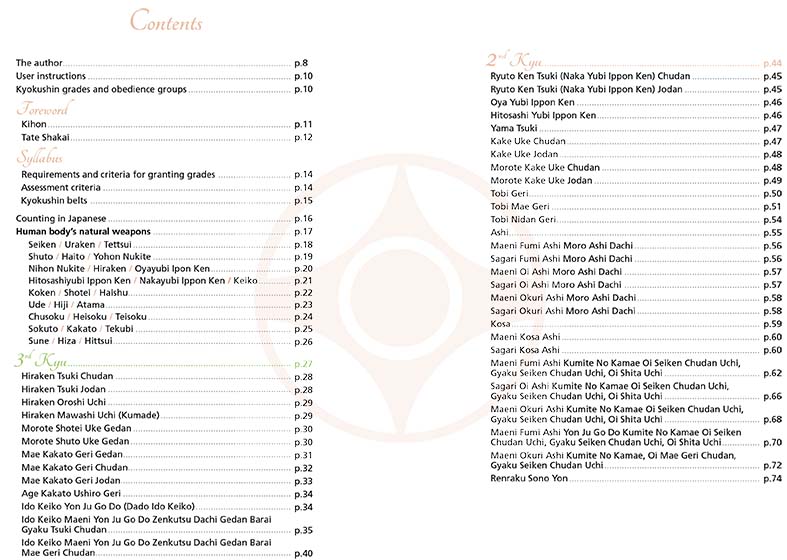 "Kyokushin Encyclopaedia" - SYLLABUS (Shihan Bertrand Kron)
Shipment being unceasingly increasing, we propose up to you a slow shipment cost without any insurance or a fast shipment cost with insurance and tracking.
Click the
picture
to enlarge
Price (€)
Port
France
(métropole)
Shipment
Europe
(Schengen)
Shipment
rest of
World

Kyokushin Encyclopaedia SYLLABUS VOL 1

ENGLISH

20 €
5 €
(urgent & assuré)

3 €
(normal non assuré)

13 €
(urgent & assuré)

5 €
(normal non assuré)

24 €
(urgent & assuré)

6 €
(normal non assuré)

Kyokushin Encyclopaedia SYLLABUS VOL 2

ENGLISH

20 €
5 €
(urgent & assuré)

3 €
(normal non assuré)

13 €
(urgent & assuré)

5 €
(normal non assuré)

24 €
(urgent & assuré)

6 €
(normal non assuré)

Kyokushin Encyclopaedia SYLLABUS VOL 3

ENGLISH

20 €
5 €
(urgent & assuré)

3 €
(normal non assuré)

13 €
(urgent & assuré)

5 €
(normal non assuré)

24 €
(urgent & assuré)

6 €
(normal non assuré)

Kyokushin Encyclopaedia SYLLABUS VOL 4

ENGLISH

20 €
5 €
(urgent & assuré)

3 €
(normal non assuré)

13 €
(urgent & assuré)

5 €
(normal non assuré)

24 €
(urgent & assuré)

6 €
(normal non assuré)

Kyokushin Encyclopaedia SYLLABUS VOL 5

ENGLISH

20 €
5 €
(urgent & assuré)

3 €
(normal non assuré)

13 €
(urgent & assuré)

5 €
(normal non assuré)

24 €
(urgent & assuré)

6 €
(normal non assuré)

5 VOLUMES
Kyokushin Encyclopaedia SYLLABUS VOL 1~5

ENGLISH




90 €
9 €
(urgent & assuré)

6 €
(normal non assuré)

17 €
(urgent & assuré)

12 €
(normal non assuré)

37 €
(urgent & assuré)

18 €
(normal non assuré)