INFOS

AFFILIATIONS

UTILITIES

EVENTS

KYOKUSHIN

WEB





Les produits présentés ici sont vendus par FKOK dans un but non lucratif.
LIVRES et DVD
Trouvez sur cette page toutes les infos et quelques abstracts des ouvrages dans l'ordre ci-dessous
Livre historique - Le Kyokushinkai, le karaté et Maître Oyama

Livre technique - Encyclopédie des Kata Kyokushin

Livres techniques - Encyclopédie technique du Kyokushin par programme de grades

Livres techniques - Les Bunkai des Kata Kyokushin

DVD technique - Encyclopédie des Kata Kyokushin

DVD techniques - Encyclopédie technique du Kyokushin par programme de grades
---
FRANCE METROPOLE & DOM TOM

Paiement 100% sécurisé

En cliquant sur le bouton de Paypal situé sous chaque produit, vous

allez être redirigé vers le serveur sécurisé PayPal où vous pouvez payer :

Par

carte bancaire

P

ar

Paypal

avec ou sans compte Paypal - une fois sur la page d'accueil Paypal, cliquez sur "JE N'AI PAS DE COMPTE PAYPAL", et vous pourrez choisir votre type de CB (visa, mastercard, etc.) sans ouvrir de compte Paypal.

Vous pouvez aussi si vous le souhaitez ou

en cas de dysfonctionnement du bouton PayPal,

commander en envoyant un chèque en joignant le bon de commande téléchargeable ci-dessous :

OVERSEAS EUROPE & WORLD

100% secure

With a left click on the Paypal button you can find below each item, you will access on Paypal Website where you can pay:

By

credit card

By

Paypal

with or without Paypal account - When you arrrive on the Paypal page, click on "JE N'AI PAS DE COMPTE PAYPAL", and you can choose your credit card (visa, mastercard, and so on) without opening a Paypal account.

If you wish or

if PayPal button is out of service

, you can also order by sending a swift to FKOK (ask us our IBAN by eMail) joigning the "Excel" order form you can download below:
---
Dr F' - What is KO?


In English 15 € + shipment - Contact us!

Japanese famous sports medical doctor Dr Takuya Futaesaku is a specialist in fighting sports. He supported UFC great fighters, K1 champion, Kyokushin world champion.

Taking long years research and experiment, finally he reached "The Principle Of Human Body & Mind", and "Evidence of Strength" from medical science point of view.

Now he released Fightology book to all the fighters who really wants to be stronger. Research presentation of "Fightology" has a profound effect on fighting world. This is his first public book release in English. This will be the Good News to all of the fighting sports practitioners.

Dr F' - Fightology


In English 12 € + shipment - Contact us!

Visual Function

Breathing In Fight

Proprioception

Joint Angle

Stretch Reflex

Gravity

Motor Unit and Impulse

Scapula/Upper limb

Base Of Support & Movement
---
---
Livre Historique Kyokushin
History book
KYOKUSHIN - L'ULTIME REALITE - (Shihan Bertrand KRON, Feodor TAMARSKY)
Format 21 cm x 28 cm - 200 pages

plus de 200 photos, images inédites des archives privées de Shihan Hollander et 70 tableaux et dessins originaux de Maître Feodor Tamarsky.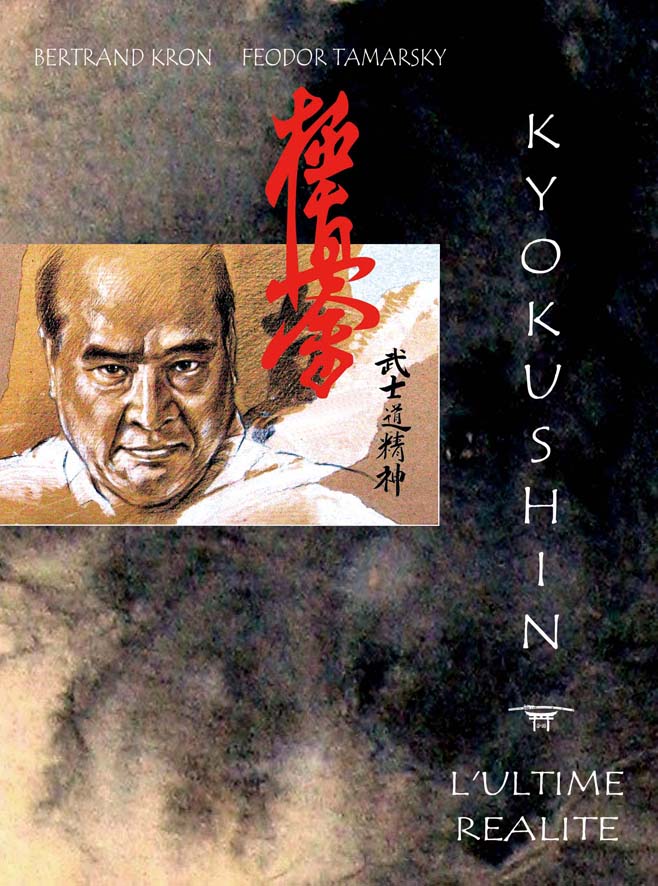 ABSTRACTS
Tarif promotionnel - 40 €
Frais de port gratuits dans le monde entier (non assuré)
IMPORTANT - shipping surcharge outside Schengen Europe area, please contact us for the amount.