Pôle France Kyokushin : intégration de Kevin Laval (Saint-Pierre des Corps / Le Thillot) en seniors D1.

20e anniversaire du camp international Kyokushin de Romorantin (Algérie, Afghanistan, Canada, Caraïbe, Colombie, France, Maroc, Océan Indien, Roumanie, Espagne, Suisse, Italie).
Assemblée Générale FKOK.

Réunion internationale des Branch-Chiefs.

Passage de grades Kyokushin international fédéral : Félicitations aux nouveaux gradés.

Bertrand Kron, invité par la Fédération hollandaise Kyokushin à l'anniversaire des 80 ans de Shihan Loek Hollander.

Pôle France Kyokushin : intégration de Manu' Robert (Vernouillet) en seniors D2 et Lise Maurin en Kata (Kibukan Paris 12e/ Raion KF).

1er Open d'Afrique Kyokushin KWU
Charley Quinol - Champion d'Afrique

Pascaline Marguerite - Vice championne d'Afrique

Bruno Basileu - Médaille de Bronze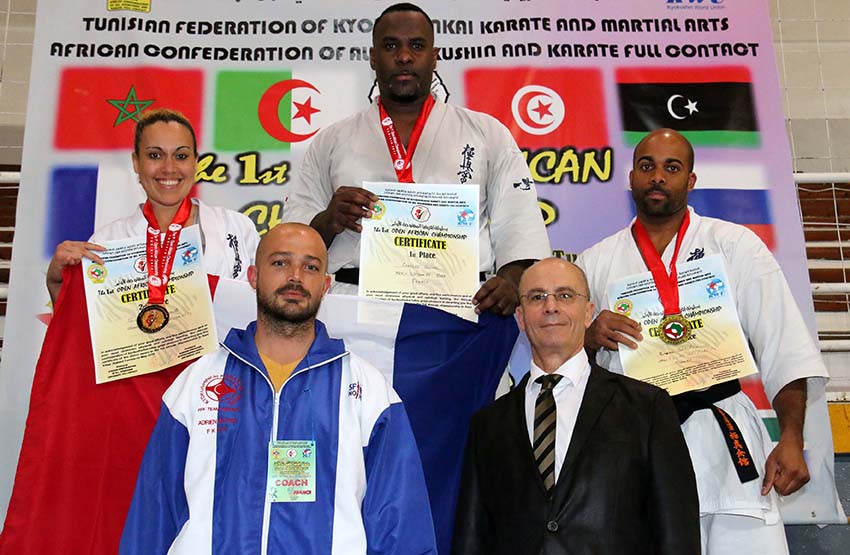 Retrouvez quelques vidéos sur le "groupe FB FKOK"

FKOK - Shihan Henri Jotterand (Switzerland) entered the Kyokushin Federal Board.

Kyu registration - Léo Barbara (Ikkyu), Alexandre Quintin (Nikyu): Branch-Chief Sensei Cédric Crausaz (France)

FKOK - Mihai Boldei (Romania) entered the Kyokushin Federal Board.

FKOK Switzerland - Festival (Geneva) with Kyokushin demo under federal Branch-Chief Sensei Henri Jotterand, with Shihan Bertrand Kron and Kata champion "Elodie".

FKOK - Kyokushin International Federal Rank Test.

FKOK - Kyokushin World camp of Romorantin 2018 with teams from Algeria, Afghanistan, Canada, Caribbean Sea, Colombia, France, Indian Ocean, Morocco, Romania, Spain, Switzerland, Italy...


FKOK Tunisia.
Press conference - Sensei Lotfi Seket, Branch-Chief FKOK, President of Tunisian Federation, Shihan Bertrand Kron, Shihan Ramil Gabasov (KWU) and international leaders.

Kyokushin Seminar in Hammamet with Shihan Bertrand Kron. 250 students, training around Pinan Ura.

KWU Kyokushin Open of Africa in Hammamet - 17 Countries (Asia, Europe & Africa): organised by Sport Ministry of Tunisian Republic, Tunisian Kyokushin Federation under KWU supervision!