19th International Kyokushin
FKOK's camp
Romorantin 2017
Afghanistan - Algeria - Antilles - Belgium - Canada - France
Haïti - Italy - Indian Ocean - Irak - Iran - Spain - South America - Switzerland
Shihan Bertrand Kron, Jérôme de Timmerman, Tommaso Schirinzi

Sensei Alexis Fréchin, Henri Jotterand, Jean Chateau, Tony Lingelser, Charley Quinol, Marcello Colizzi, Luigi Potenza, Gauthier Merckel,

More than 50 Yudansha !

Students from Afghanistan - Carribean sea - Belgium - Canada - Espagne - France - Haïti - Italy - Indian Ocean - Irak - Iran - Spain - Switzerland...

Almost of French schools...

Special courses for teachers...

Taiki Ken, Self defense...

Rank test from Nikkyu until Godan...

Many news...

No blood but Sweat (a lot) and no tears but many laughs especially during Sayonara with DJ Sensei Tony.

Pure Kyokushin !
General Meeting
Second international "Federal Kyokushin Organization of Karate" General Meeting with its international affiliated Branch-Chiefs. Welcome to our new head instructor Sensei Charley Quinol!
Great spirit this year during this camp which certainly grew until Sosai's Heaven.
Kihon, Kata, Syllabus, Rank test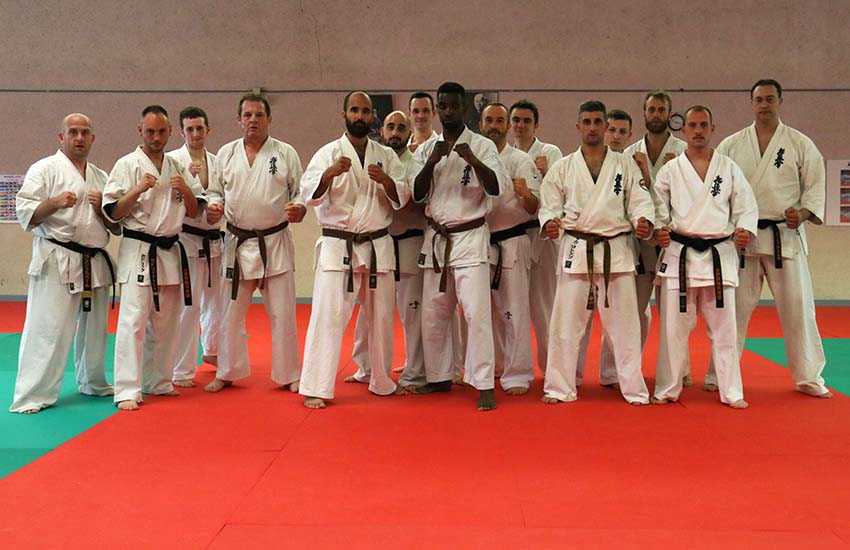 General level was really appreciated by the federal Jury this year during the 3 hours of Kihon and Kata test
Working groups: sun, green & castle template
Balloon Stamina training: welcome in Hell - 100% of humidity and 55°C!
Tame shiwari rank test & Shiwari course
Working groups: sun, green & castle template
Fighting Time: 75 x 1 minute!
Sayonara & resting time (Censured photos!)
If the 2017's winner was Italy, the "pan" goes to France until May 2018!
Sunday morning training with special courses: Goshin Jutsu & Sanbon Kumite...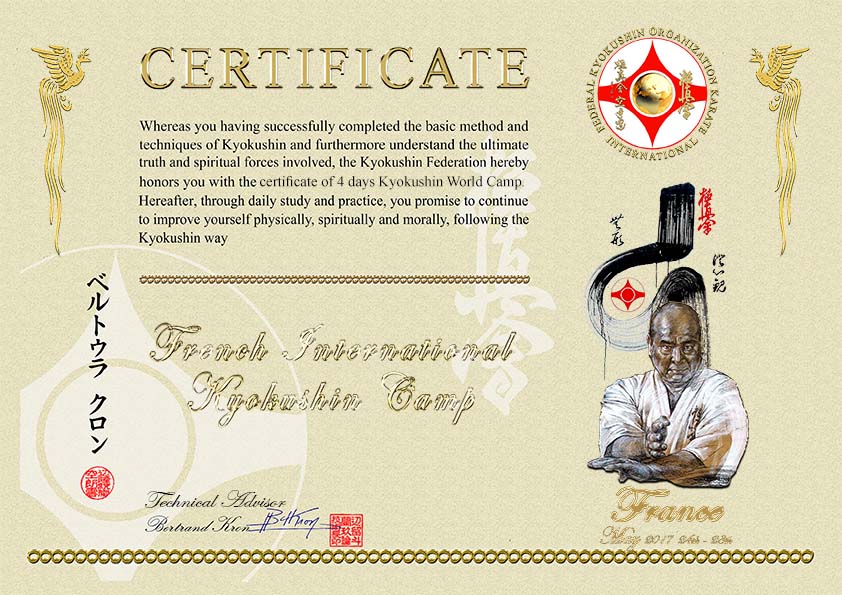 Rank diplomas to candidates who succeed, embroidered belts will follow very soon...
Mudansha

Pascal Leduc (1st - France)

Edouard Kron (1st - France)

Shodan

Sempai Mehdi Azizi (Switzerland)

Sempai Martin Delemarre (France)

Sempai Clément Prince (France)

Sempai Matthias del Rosso (France)

Sempai Lorenzo Brocca (Italy)

Sempai Thomas Reutenaeur (France)

Nidan

Sempai Jean-François Desponts (France)

Sempai Julien Krackenberger (France)

Sandan

Sensei Cédric Crausaz (France)

Sensei Ricardo Cassianno (Italy)

Yondan
See you next year for 20th year from 10th until 13th May in Romorantin for the 20th anniversary!