21th International Kyokushin FKOK's camp
Romorantin 2019
Afghanistan, Algeria, Antillas, Canada, China, Columbia, Congo, Denmark, France, Guinea Conakry, Japan, Indian Ocean, Morocco, Romania, Spain, Switzerland, Tunisia...

Shidohin - Dr F' Takuya Futaesaku

Shihan - Bertrand Kron , Tommaso Schirinzi, Tony Lingelser (special guest)

Sensei - Alexis Fréchin, André Avena (special guest)

More than 40 Yudansha from Sho-Dan until Nana-Dan !

Fightology, Kyokushin Kihon, Kata, Bunkai, Kumite, Taiki Ken, Self defence...

Rank examination from 8th Kyu until Godan...

Unforgettable Sayonara with "DJ Tony".

Pure Kyokushin trainings with Shotokan and Goju Ryu friends!

... And many surprises...
Videos online on FKOK Youtube Channel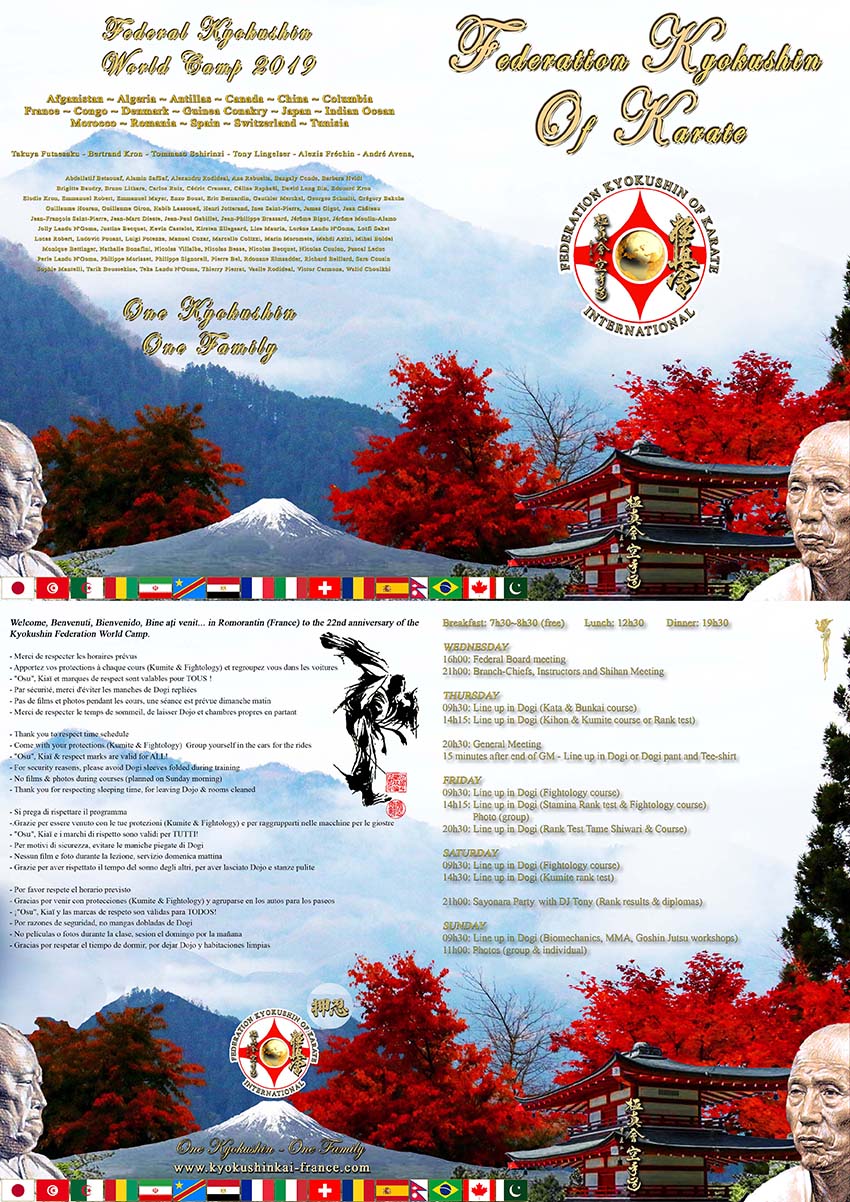 General Meeting
Fifth international "Federal Kyokushin Organization of Karate" General Meeting with international affiliated Branch-Chiefs.
Minutes of General meeting
International Rank test
High general level during the 4 hours of Kihon and Kata test. High spirit during Stamina, Shiwari and Kumite test behind international Federal jury.
International Seminar
Congratulations to all participants for their excitement throughout the course with a special mention for women more and more present each year (18 this year).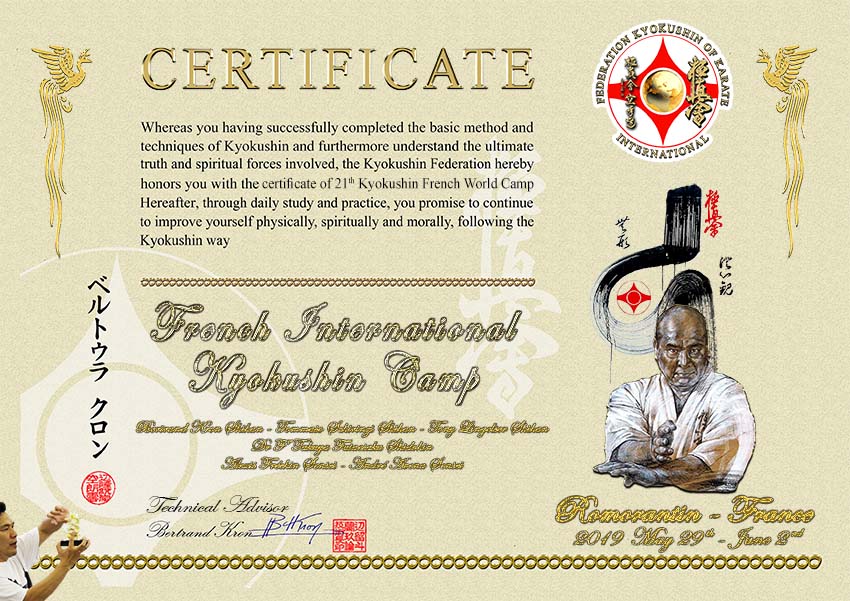 Many pleasure and brain storming during workshops of Fightology with our special guest Head instructor Dr F' Takuya Futaesaku Shidohin who came especially from Tokyo for this FKOK's camp.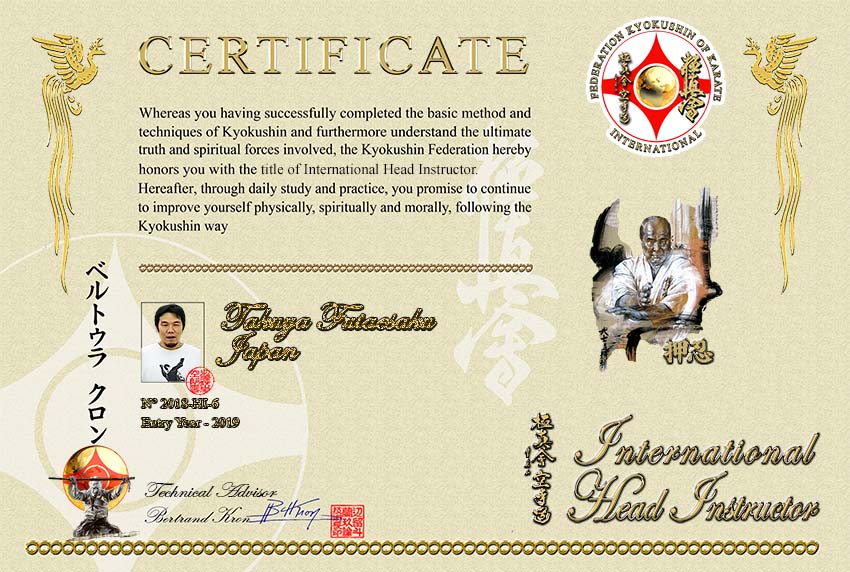 Bunkai, Kata, Kumite, Ido Keiko, Kihon, Goshin Jutsu or Taikiken was also trained in various workshops.
Dr F' trainingS
Shiwari test
Fun and pleasure also during Sayonara Party with DJ Tony Shihan on Saturday night.
Mudansha

Jukyu - Justine Becquet (France)

Hachikyu - Jolly Landu N'Goma (Congo)

Nanakyu - Nicolas Becquet (France)

Nanakyu - David Long Bin (China)

Rokukyu - Lucas Robert (France)

Gokyu - Barbara Hvidt (Denmark)

Yonkyu - Georges Schmitt (France)

Yonkyu - Jérôme Moulin-Alamo (France)

Nikyu - Pierre Bel (France)

Nikyu - Philippe Signorell (Colombia)

Nikyu - Philippe Morisset (France)

Ikkyu - Emmanuel Robert (France)

Ikkyu - Nicolas Coulon (France)

Ikkyu - Jean-Paul Gabillet (France)
Shodan

Nidan

Jean-François Saint-Pierre Sempai (Canada)

Medhi Azizi Sempai (Afganistan)

Jérôme Bigot Sempai (France)

Céline Raphaël Gartioux (France)

Sandan

Elodie Kron Sensei (France)

Manuel Diaz Sensei (Spain)

Rdouane Elmsadder Sensei (France)

Yondan

Godan

Alexis Fréchin Shihan (France)

Carlos Ruiz Shihan (Spain)
See you next year for 22nd year... From May 20th until 24th in Romorantin ?