Administratif International
L'organisation Kyokushin FKOK est régie par des règles de fonctionnement fédérale soumises à délégation de pouvoir auprès des 'Branch-Chiefs' à travers le Monde.
Les règles de fonctionnement sont essentiellement les suivantes.
Comité International
Les zones géographiques sont réparties avec un Comité mondial supervisant les 'Branch-Chiefs' de chaque zone.
Passeport International de membre
Le passeport international est soumis au règlement d'un droit d'affiliation valable 10 ans.
Il est délivré par le 'Branch-Chief' et enregistré nominativement.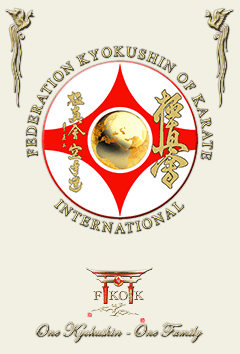 'Branch-Chief'
Les 'Branch-Chiefs' représentent un Dojo, un groupe de Dojo ou un pays entier sur le plan administratif.
Le 'Branch-Chief' dispose de tout pouvoir décisionnel technique au sein de sa zone.
Principales fonctions et obligations du 'Branch-Chief'
Etre un Enseignant de haut niveau, respecté au sein de sa branche Kyokushin

Enregistrer tous ses pratiquants (Passeport international) dès son adhésion au sein de sa branche.

Assurer au moins 2 cours par semaine dans son Dojo et justifier au minimum de 30 élèves dans sa branche.

Diriger au minimum un événement national (stage, compétition, démonstration...)

Etre présent aux meetings internationaux.

Etre joignable facilement en anglais par téléphone et/ou eMail.

Faire appliquer au sein de ses clubs et pratiquants, l'ensemble des règles ci-dessus, ainsi que le règlement général international.

Faire appliquer au sein de ses clubs le programme de progression technique officiel (Syllabus)

Régler ses droits annuels d'affiliation.
Grades
Chaque 'Branch-Chief' doit organiser 1 passage de grades par an (Dan).
Un pratiquant enregistré auprès d'un Branch-Chief ne peut passer ses grades qu'au sein de sa branche sauf accord écrit de son 'Branch-Chief' .
Seule la Fédération enregistre et délivre les diplômes de grades.
International administration
Fedetion Kyokushin Of Karate is leaded with rules giving all power in their branches to the recognized Branch-Chiefs all over the World.
Rules are:
International Committee
An international committee lead the organization corresponding with Branches in countries and continents.
International membership passport
International membership passport is the only proof of membership. Valid for 10 years.
Delivered by the Branch-chief with a nominative registration.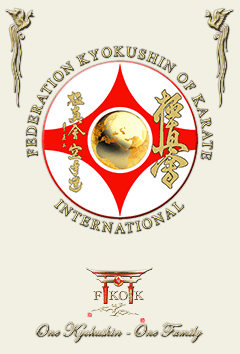 'Branch-Chief'
'Branch-Chiefs' represent a Dojo, a group of Dojo or a complete country.
'Branch-Chief' has all technical and administrative power inside his own branch.
'Branch-Chief' duties
Must be a recognized teacher inside his Dojo and his Kyokushin branch.

Must register all his students with an international membership passport inside his branch.

Must teach at least twic a week courses in his own Dojo with at least 30 students inside his branch.

Must lead at least one national event once a year (seminar, rank tets, championship, show...)

Must come to a yearly international meeting.

Must be reachjed by eMail or phone.

Must follow the administrative rules of the Federal Kyokushin Organization.

Must follow the technical Syllabus rules of the Federal Kyokushin Organization.

Must pay a yearly affiliation fee.
Ranks
'Branch-Chief' must lead his own rank test.
Students has to test their ranks inside their own branch, except with a written derogation from his own Branch-chief., agrred by Federation
Rank diplomas are delivered only by the World Federation.