26thANNIVERSARY
INTERNATIONAL KYOKUSHIN CAMP
Welcome to the French Kyokushin Spring Camp open to all Martial Arts
Group courses (Kihon, Ido Geiko, Kata and Kumite)
Special Bunkai Training...
Trainings with the Federal official advisors and head instructors,
Sweating smiling f...ing trainings you will never forget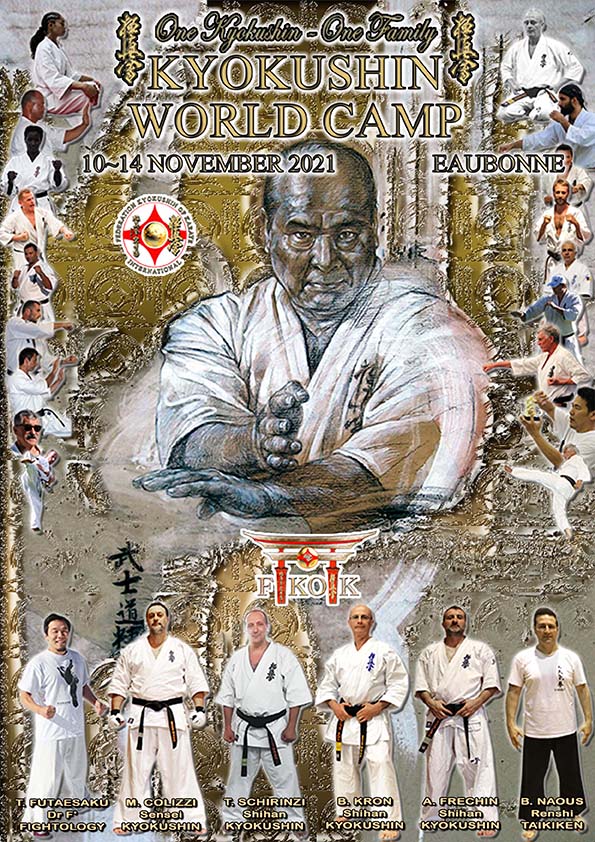 DATES
From 2021 Wednesday afternoon November 10th until Sunday 14th (Long Holiday Week-end).
PLACE
CDFAS (Olympic) International sport training centre - Eaubonne
64, rue des Bouquinvilles 95600 EAUBONNE - France
ACCESS
On the road again ?
From Paris (20 minutes) - A15 motorway, exit N170 Sannois/Saint Gratien, direction of Eaubonne, the follow arrow path, direction "CDFAS"
Airports
:
30 km from Roissy Charles-de-Gaulle airport

80 km from Paris Beauvais

40 km from Paris Orly
Train
5 minutes walk from Ermont-Eaubonne station: 20 minutes from Paris Nord or Saint-Lazare

RER: 5 minutes walk from Ermont-Eaubonne station - line C of RER.
Logistics
Private parking - 200 places

Rooms from 2 to 3 people (private shower & toilets).

Bedding and towels provided by CDFAS.

Free Wifi everywhere.

Possibility of free Sauna and Jaccuzzi during the stay.

Possibility of free Ice machine.

Possibility of physiotherapist

Multimedia meeting rooms

500 m² room for Sayonara Party

Multimedia center

Restaurant, with Hallal, Kacher ou special allergy if request on registration form

Dojo & Training halls inside the center

Outside training place
ESTIMATED
TEACHERS (

forecast according to health constraints

)
Bertrand Kron Shihan (7th Dan - Technical advisor for FKOK)

Tommaso Schirinzi Shihan (6th Dan - Italy, Head Instructor)

Alexis Fréchin Shihan (5th Dan - President of FKOK)

"DJ T" Shihan (5th Dan)

Takuya Futaesaku Shidohin (Fightology specialist - Japan)

Benoît Naous Renshi (5th Dan Taikiken, 2nd Dan Kyokushin - Advisor of Taikiken F.O.)

Marcello Colizzi (4th Dan Kyokushin)

And surprises in the Task force (to be confirmed)...
LANGUAGES
Français English Español Italiano
SCHEDULE
This provisional program is obviously subject to modifications and additional courses depending on the mood and imagination of the instructors!
Wednesday afternoon - Welcome

Wednesday evening - Meeting of Branch-Chiefs, leaders and VIP FKOK

Thursday morning - Common course

Thursday afternoon - Grading from 9th Kyu to 6th Dan for registered candidates

Thursday afternoon - Common courses

Thursday evening (late) - Common course

Friday morning - Workshop classes

Friday afternoon - Workshop classes followed by Stamina test

Friday evening - Tame Shiwari test

Saturday morning - Workshop classes

Saturday afternoon - Kumite test

Saturday evening - Sayonara Party NB - For our Sayonara Party with diplomas results, there is no bar service in the center, so it will consume ... what everyone will bring or buy on the spot in town, thank you for it think !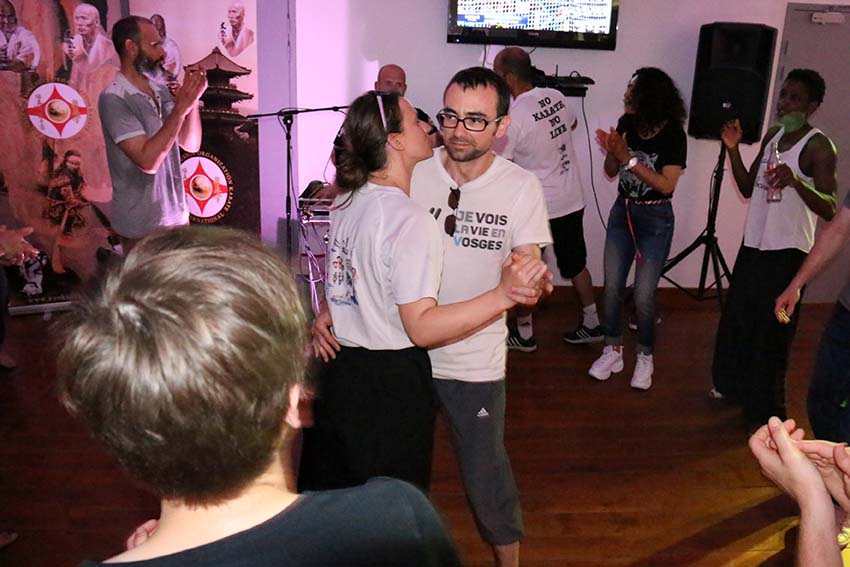 Sunday morning - Workshop classes then "photos for all" session : Thank you for our that apart from this end of internship session, no video or photo is possible during the lessons without prior authorization from the technical direction of FKOK.
Simultaneous workshops are open to free choice of participants: Kihon, Ido Keiko, Kata, Bunkai, Kumite, Biomechanics, Self Defense, Fightology, Taikiken ...
Note that the camp is residential, which means that nights, meals at the center and training are inseparable, the presence in this frame is essential during all the camp.
The course is open to all without distinction of Martial Art, style, group, level, age or sex!
Sunday after lunch.
BRING
2 Dogi, 1 track-suit, training shoes. Shin pads and Fuji Mae fighting gloves. Personal pharmacy. Towels and... hangers to eventually dry your Dogi.
REGISTRATIONS
For organizational reasons, the course reservation is only validated upon receipt of full payment of the registration fees and the fully completed and signed slip. Given the health constraints, the cancellation of the course due to a pandemic will result in the full refund of the registration fees.
Rooms are assigned upon receipt of registrations, depending on availability.
Incomplete rooms are completed as and when registrations are made.
no registration will be withdrawn by registered mail
Minors must attach parental authorization on a standard model to their registration.

Minors under 16 must be accompanied by a responsible adult.

Minors under 13 must be accompanied by a direct parent.

FEDERAL KYOKUSHIN RANK TEST FKOK
For rank test, the FKOK passport valid for 8 years, with photo pasted and license for the current season validated, must be submitted to the Jury manager before the start of the exam.
Brown & Black belts - 2nd Kyu until Rokudan
With camp registration, return the registration form fully completed at least 1 month before the test (respect this deadline for registration reasons and to allow us to order the boards necessary for the passage of grades of high grades).

Send by eMail a photo ID to the standards specified on the form.

Send by mail to FKOK:

The amount of the examination and registration fees in two separate payments.

The printed registration form
Coloured belts - 9th Kyu until 3rd Kyu

Kyu test until 3rd Kyu during World camp is free of fees.
All successful candidate will receive his official diploma and a coloured embroidered belt.
Kyu test will be included in the high rank test or will be occur with a separate high rank jury if the number of candidates is too high for the smooth running of the exam.
REGISTRATION (Rank test)
After camp registration, return by eMail the Rank test registration form fully completed at least 1 month before the test (respect this deadline for registration reasons & to allow us to prepare rank test and diplomas).

Send by eMail a photo ID to the standards specified on the form.

VISA and OFFICIAL INVITATION PROCEDURE
For students needing visa, thank you to understand for laws reasons, we can send official invitation for Visa only if we follow bylaws and administrative rules as below.
To participate in a federal seminar or camp, the invitation must be requested from FKOK, sufficiently in advance according to the rules of the invited country. Please ask your form to FKOK after registration.

Invitation cannot be issued for unjustified accompanying persons.
Then you will receive by eMail an official letter of invitation
Please follow this following procedure - no other way possible!

FEES
Fees includes courses, accommodation and meals.
Fees for accompanist are "not Federal member".
Thank you to be there before 8 am on Thursday to confirm your presence at the camp.
Insurance for cancelation
Registrations are nominatives (no possibility of substitutes).
Reimbursement can be possible only for people who got individual insurance (25 € added and paid with the full registration fees at least one month before the camp)
It will not be possible to reimburse people without insurance including if it's for important reasons.

It will not be possible to reimburse people with insurance without written official proof of the cancel reason (medical or professional certificate…).
Payment send to our organisation means that you read and accept this conditions. Eventual lawsuits will be received in Dreux court only.
Full refund for cancellation due to pandemic!
- Reimbursement cases of force majeure (Terrorism, natural disaster, pandemic) - 100%
- Reimbursement more than 30 days before the first day of the camp - 100 %
- Reimbursement less than 30 days before the first day of the camp - 75 %
- Reimbursement less than 15 days before the first day of the camp - 50 %
- Reimbursement less than 8 days before the first day of the camp - 0 %
Arrival on the date of your choice but price is unfortunately identical ...
Registration deadline - Saturday October 9th
Beyond this date, any registration will be subject to the prior agreement of the CDFAS before being validated.
SPECIAL OFFER - 30 € decrease for registration fees received before September 30th
NORMAL RATE registrations received after September 29th
Registration must be paid by swift or Paypal at least 2 weeks before the camp
(after this date, no possibility of reimbursement for cancellation)
---


(If you pay by PayPal, thank you to add 4% of PayPal taxes.)
Check your eMail address on the contact form

Explain payment for "French spring camp" concerning (names and Country)

Click on the Paypal Logo to pay us: our eMail address for payment is:
fkok.kron 'at' gmail.com (change 'at' by @ !)
---
IMPORTANT - limited number of places - Mandatory previous registration